[This article was first published in Ciel variable, no. 105, Winter 2017.]
ZZYZX
Gregory Halpern
Mack, Londres, 2016,
128 pages, 77 photographies
By Louis Perreault
In the photography world, the book continues to play an essential role of dissemination. Yet, beyond simply being a tool for promotion of a photographer's work, the book is seen by many as a creative space on its own. Like all niches of a rich cultural field, the photobook niche has a few established superstars, some rising stars, and various shooting stars in a dizzying constellation of publications. Anyone who follows this very specific universe will therefore have noted the ascent of photographer Gregory Halpern, who recently published a book titled ZZYZX with the English publishing house Mack, which won the Aperture Foundation's prestigious PhotoBook of the Year Award at Paris Photo 2016.
Of course, the rather abstract title catches our attention right away. Like the book's enigmatic cover, it suggests an invitation to speculation and imagination – to dive into the ambiguity of meanings.
With a bit of research, we can find out that ZZYZX is the name of a California town that was formerly the site of Zzyzx Mineral Springs and Health Spa and today is home to California State University's Desert Studies Center. A single sentence at the very end of the book informs us that the images were produced around Los Angeles. Despite such fuzzy information, we can't be angry with Halpern for preserving an aura of mystery around his book. We will understand, from his images, that despite the descriptive role that we often want to attribute to photographs, they ultimately don't so much show a place or a situation as evoke a meaning that goes beyond them.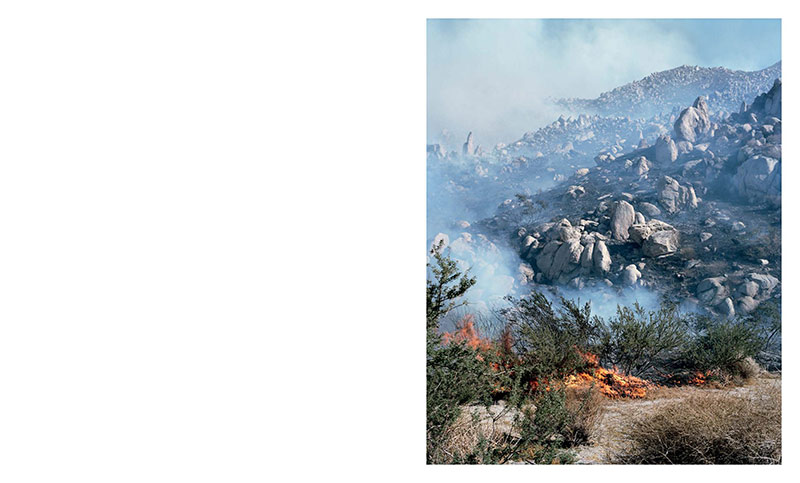 Going through the book from beginning to end, we follow a geographic journey from the California desert to the ocean. On the way, Halpern enters Los Angeles to meet a multitude of people, of whom he makes striking portraits. Like those of his predecessor, Diane Arbus, Halpern's portraits are based on the intense feelings that they provoke. He avoids slipping into the voyeurism often associated with pictures of marginalized people; his portraits, like Arbus's, evince both the evident empathy of their maker and the discomfort that the viewer might feel witnessing the vulnerability of the subjects photographed. In a way, these images are so intense that they lose their primary function (portraiture) and enter the visual universe that Halpern constructs for us.
Although the main subject of the book is the movie-making capital of the United States, Halpern's intention is not documentation. Drawing on the visual language of that photographic genre, ZZYZX is nevertheless related more to poetry, from which Halpern takes some of his book-design strategies. Throughout the book, certain recurrent motifs weave connections in what might otherwise be perceived as a colourful hodgepodge of portraits, landscapes, architectural details, and street scenes. This strategy of recurrence is certainly not new; photographers such as Robert Frank and Alec Soth have often exploited its potential. Yet, what is surprising about Halpern's work is the pace and the elegance with which these signs are used in the layout.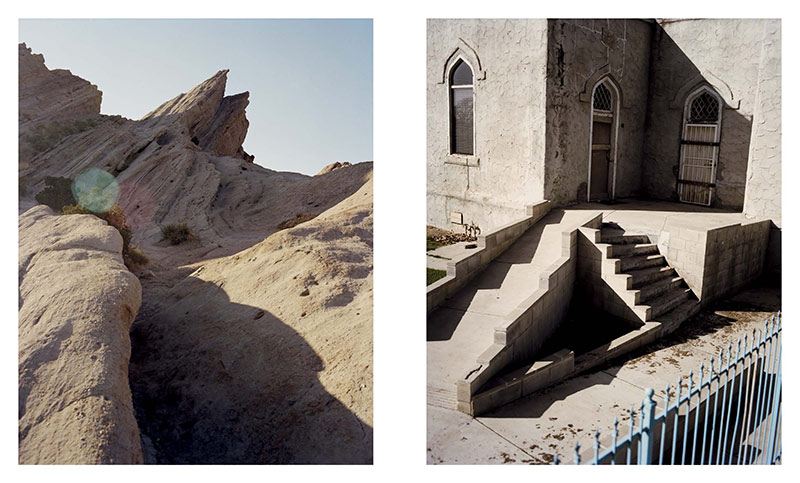 The book is built in short sequences, separated by blank pages. Like a novelist who seeks to find new forms of narration for the story, Halpern offers a multitude of associations and juxtapositions that leave the reader little respite. Turning from an enigmatic double-page portrait that is enchanting for its light, its dark tonalities, and the intensity of the subject's out-of-field gaze, we find an image of a skyscraper hit by hard afternoon light. On the following page, a young woman with exceptionally long hair is sitting alone on a bench. From intensity to immensity, from a solitary figure to big spaces (whether urban or natural), Halpern brilliantly masters the difficult task of conveying the sense of surprise and instability that people feel as they attentively discover new territories.
Like most of Mack's publications, ZZYZX is impressive for its exceptional production quality. From the format of the images (all vertical) to the choice of paper and the bold cover design, this book reaffirms (if reaffirmation were necessary) Mack's important position in the ever-growing international photobook landscape. Translated by Käthe Roth
Louis Perreault lives and works in Montreal. His practice is deployed within his personal photographic projects and in publishing projects to which he contributes through Éditions du Renard, which he founded in 2012. He teaches photography at Cégep André-Laurendeau and is a regular contributor to Ciel variable, for which he reviews recently published photobooks.